The Giargiari Bel Canto Competition
Music Director and Pianist: Danielle Orlando
Friday, October 15, 2021
WRTI BROADCAST – October 31, 2021 from 4:00-6:00PM
Experience Giargiari again – or for the first time! – on WRTI. On Sunday, October 31, 2021 from 4:00-6:00PM, WRTI 90.1 FM will broadcast this year's competition. Listeners will also have the opportunity to vote for their favorite singer. Click here to vote (this link will be live on Sunday for voting).
Announcing the 2021 Giargiari Bel Canto Competition Winners!
Anne Marie Stanley, First Prize
Kevin Godínez, Second Prize
Sahel Salam, Audience Favorite Award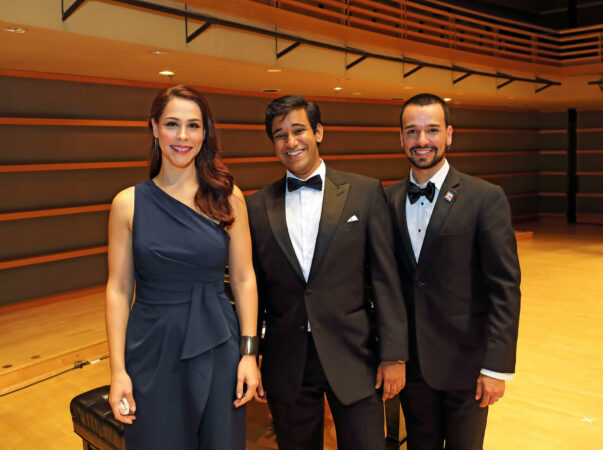 2021 Judges:
Michael Egel, General and Artistic Director of Des Moines Metro Opera
Thomas Lausmann, Director of Music Administration at the Metropolitan Opera
Jane Shaulis, renowned opera singer, President of Opera Index and AVA alumna
An evening of vocal fireworks and beautifully sung arias awaits you! Philadelphia's own Academy of Vocal Arts (AVA) trains the world's next generation of great opera singers. For over 40 years, this competition has showcased the brightest of up-and-coming opera stars. Join them for the annual favorite singing competition, where they'll compete against each other in song. You'll also have the opportunity to vote for your favorite singer! The annual vocal competition will be held at the Perelman Theater on the Kimmel Cultural Campus. Single tickets are on sale now through the Kimmel Center Box Office at 215-893-1999 or by clicking here.
In preparation for this year's Giargiari Bel Canto Competition at
The Kimmel Cultural Campus
, we're sharing selections from last year's virtual competition!
As the Giargiari Bel Canto Competition and A Celebration of Opera! will be held at the Kimmel Center, we will be in accordance with their safety measures: Effective September 18, the Kimmel Cultural Campus is joining performing arts centers across the nation in requiring that all our guests provide proof of COVID-19 vaccination to attend all indoor public performances and events in all venues––including the Kimmel Center, the Academy of Music, and the Merriam Theater.
PROGRAM
Program subject to change
Monique Galvão (mezzo-soprano)
Nacqui all'affanno… Non più mesta | La cenerentola | Gioachino Rossini (1792-1868)
Loella Grahn (soprano)      
Arioso | Iolanta | Pyotr Ilyich Tchaikovsky (1840-1893)
Shawn Roth (tenor)   
Ô Paradis | L'Africaine | Giacomo Meyerbeer (1791-1864)
Cody Müller (bass)
Si la rigueur| La Juive | Fromental Halévy (1799- 1862)
Emily Margevich (soprano)
Stridono lassù | Pagliacci | Ruggero Leoncavallo (1857-1919)
Zachary Rioux (tenor)
La fleur que tu m'avais jetée | Carmen | Georges Bizet (1838-1875)
Kevin Godínez (baritone)
È sogno? o realtà… (Ford's Monologue) |Falstaff | Giuseppe Verdi (1813-1901)
Chelsea Laggan (mezzo-soprano)
Mon cœur s'ouvre à ta voix | Samson et Dalila | Camille Saint-Saëns (1835- 1921)
Ethel Trujillo (soprano)         
Regnava nel silenzio | Lucia di Lammermoor| Gaetano Donizetti (1797- 1848)
Intermission
Benjamin Dickerson (baritone)
Vision fugitive | Hérodiade |Jules Massenet (1842- 1912)
Aubry Ballarò (soprano)
Ah, fors'e lui… Sempre libera | La traviata | Verdi
Sahel Salam (tenor)          
Lamento di Federico | L'arlesiana | Francesco Cilea (1866-1950)
Anne Marie Stanley (mezzo-soprano)
Se Romeo t'uccise un figlio | I Capuleti e i Montecchi | Vincenzo Bellini (1801- 1835)
Renée Richardson (soprano)
O patria mia | Aida | Verdi
Eric Delagrange (bass)  
Come dal ciel precipita | Macbeth | Verdi
Titus Muzi (baritone)
Questo amor, vergogna mia | Edgar | Giacomo Puccini (1858- 1924)
Griffen Hogan Tracy (bass)
O tu, Palermo | I Vespri Siciliani | Verdi
Alice Chung (mezzo-soprano)
Acerba voluttà | Adriana Lecouvreur | Cilea
Meet the Artists
Related
Articles & Reviews
Sponsors
Generously sponsored by Walter and Alice Strine, Esqs.