Giargiari Bel Canto Competition
Virtual Performance
Music Director and Pianist: Danielle Orlando
Judges: Angela Meade, International operatic star and AVA alumna; Corrado Rovaris, Opera Philadelphia's Jack Mulroney Music Director; Christina Scheppelmann, General Director of Seattle Opera
Monday, October 26, 2020
Announcing the 2020 Giargiari Bel Canto Competition Winners!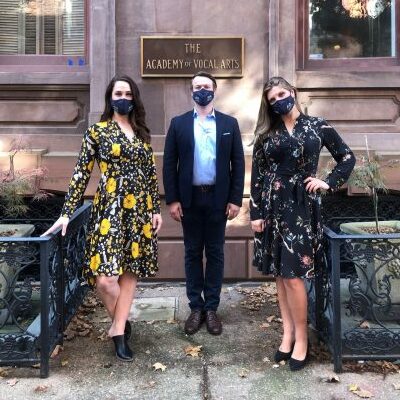 Kara Mulder, First Prize
Anne Marie Stanley, Second Prize
Eric Delagrange, Special Judge's Award and Audience Favorite Award
AVA's annual favorite vocal competition returns, from the comfort of your own home! The Giargiari Bel Canto Competition has seen such international opera stars as Angela Meade, Stephen Costello, Michael Fabiano and Ailyn Pérez win prizes over its 40 year history. Now is your chance to hear the future stars of opera, right from your house!
Tickets are just $10 minimum, and we do encourage patrons to pay more if they are able to (Giargiari tickets at the Perelman Center are $50+)! The competition will be streamed via YouTube. Performers, repertoire and additional streaming details will be announced soon. Giargiari will also be available to stream for 48 hours after the launch time.
COMPETITION PROGRAM*
Sahel Salam, tenor
Ella mi fu rapita, Rigoletto | Giuseppe Verdi (1813-1901)
Anne Marie Stanley, mezzo-soprano
O mon Fernand, La favorite | Gaetano Donizetti (1797-1848)
Daniel Gallegos, baritone
O vin dissipe la tristesse, Hamlet | Ambroise Thomas (1811-1896)
Renée Richardson, soprano
Depuis le jour, Louise | Gustave Charpentier (1860 – 1956)
Griffen Hogan Tracy, bass
Il lacerato spirito, Simon Boccanegra | Giuseppe Verdi (1813-1901)
Pascale Spinney, mezzo-soprano
Vois sous l'archet frémissant, Les contes d'Hoffmann | Jacques Offenbach (1819-1880)
INTERMISSION
Titus Muzi, baritone
Avant de quitter, Faust | Charles Gounod (1818-1893)
Chelsea Laggan, mezzo-soprano
O ma lyre immortelle, Sapho | Charles Gounod (1818-1893)
Eric Delagrange, bass
Abbietta zingara, Il trovatore | Giuseppe Verdi (1813-1901)
Aubry Ballarò, soprano
Come per me sereno, La sonnambula | Vincenzo Bellini (1801-1835)
Alice Chung, mezzo-soprano
Condotta, Il trovatore | Giuseppe Verdi (1813-1901)
Kara Mulder, soprano
Marietta's Lied, Die tote Stadt | Erich Wolfgang Korngold (1897-1957
*Please note – program is subject to change
Ticketing Assistance
If you are having technical difficulties or are not connected to the internet you can call us directly for assistance, updates and descriptions of the digital experiences we are creating. Our Box Office Director Bill Buddendorf and Administrative Associate Stephen Trygar are eager and available to talk with you. You can call them directly at 215.735.1685, or please email Bill at bbuddendorf@avaopera.org For non-ticket related questions please contact us at info@avaopera.org.
Meet the Artists
Related
Articles & Reviews
Sponsors